TRUE GRIT RUNNING COMPANY
True Grit Running Company is where Perseverance Meets Passion.  Getting to the finish line requires perseverance; but we also recognize that one cannot get to the finish line without having the passion to first get to the starting line.  We believe all runners have true grit, we just have the gear to help them show it.
6808 Rogers Avenue, Suite B
Fort Smith, AR 72903 You live here and play here…we do too!  We are active with the local run club, know local run routes, and support local races!  We can get you connected with other runners in the community—no matter your experience level–and get you exploring Fort Smith on foot!  We believe you can gain a deeper appreciation and a better understanding of your community when it isn't going by you at 35mph.
WHAT OUR CUSTOMERS ARE SAYING
___________
"Love this place! I finally got a new pair of shoes from people who know their stuff and I couldn't leave without a shirt!"
–TJ
"Finally! A local shop dedicated to running with specialized expertise AND competitive prices. Well worth the visit if you're from out of town. If you're a Fort Smith runner, why would you shop anywhere else?!"
– Danny
I've known Melissa Vitale for several years, she is passionate, knowledgeable and enthusiastic about running and about Fort Smith. Great service and selection. Go get your run on!! Go get your running gear at True Grit!!
– Jim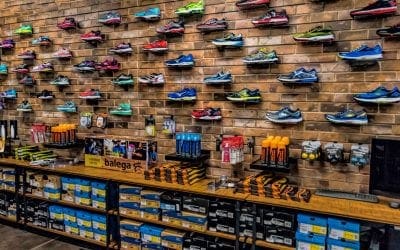 To run with grit, you've got to have running shoes that are up for the challenge.  True Grit Running Company carries the right shoes for all your running needs!  Listed below are each of our shoe brands and what you need to know about them. Brooks Brooks is a...
read more